In preparation for the Transitions conference, children and young people have been working with the Welsh writer and performer, Clare E. Potter to creatively explore their experiences of transitions. Their discussions, writing and artwork provide powerful evidence that transitions are complex, essential periods of change.
An introduction to transitions
A coastal round house at the Urdd Centre, Camp Llangrannog provided a stimulating location to explore transitions with care experienced 7- to 11-year-olds, who enjoyed a summer playscheme organised by Ceredigion's Project Co-ordinator for Looked After Children. Clare facilitated an inspiring day that was packed full of poetry, spoken word and art. Transitions were perceived as opportunities and the themes of power, relationships and love featured strongly. When preparing for transitions the children recommended that, 'They don't just fly off, they have to learn to fly.'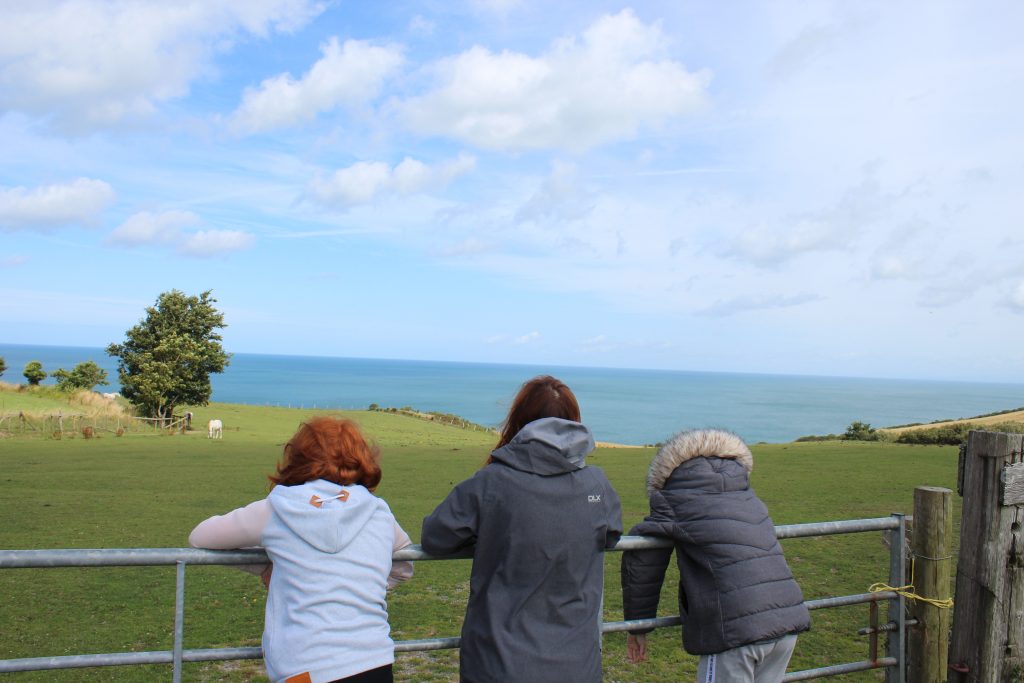 A group of young people involved with Voices Carmarthen helped to scope this project by highlighting how school and family transitions can impact upon mental health. They warned that, 'During transitions those who shout the loudest and demand angrily get a response, but if you are quiet, shy, patient you are ignored.' The young people also discussed the importance of emotional support during transitions to help individuals move from 'Surviving to thriving.'
Young people involved with Llamau identified a range of transitions that encompassed, styles, relationships, and places. One of their talented poets wrote, 'There's always a bit of light in any problem you have, and you can always make that light brighter if you believe in yourself.'
This project has reinforced the importance of taking the time to listen to children and young people. Their insightful views have informed the Transitions Conference and provided inspiring input that reminds us of the importance of flexible, individualised support. We offer grateful thanks to the children and young people who were involved, Clare for providing the inspiration and to Diana Lewes-Gale, Sian Jones and Annie Galt who co-ordinated the group work.
Poetry
"I'm actually going through words and seeing if I like them or not" – Alexis

"I'm actually going through words and seeing if I like them or not" – Alexis

Wings, fly, wind, spaceship, clouds, dragon, chicken nuggets with a jetpack, superman, chocolate flying into my mouth, pigeon with jetpack

The hurt is floating inside my body

Heart. Does the heart have feathers?, Sometimes my heart flies away, When I like something very much and my heart is set on it.

Heart. Does the heart have feathers?, Sometimes my heart flies away, When I like something very much and my heart is set on it.

Actostic Poem. Have I found the answer? Emeralds shine out with my heart, and I never falter to remember my heart is to fly across the earth.

My transition scene. My changes I would like to change, like my fear of the dark? Or maybe of those spiders and new people at home. But I am always brave and will try and try again. Fear overcome.

Light to dark. I don't like the dark. What lurks in the dark? The moon shines bright in my window.

Moving house. I am worried moving house, what if there is not a nice room for us? I am so excited to move because my family is with me. They will protect me and love me.

Moving house. I am worried moving house, what if there is not a nice room for us? I am so excited to move because my family is with me. They will protect me and love me.

The heart is floating inside my body. But when my feelings come, my heart starts to cry and then my happiness comes with joy!

From Summer to Winter, from light to dark.

My changes I would like to change, like my fear of the dark? Or maybe of those spiders and new people at home. But I am always brave and will try and try again.

LOVE

Your the new positive

Sometimes my heart flies away when I like something very much and my heart is set on it.

Be yourself.

Heart. Does the heart have feathers?, Sometimes my heart flies away, When I like something very much and my heart is set on it. Heart wings what hearts don't have, hearts have love. A heart with wings, how can it be? Do you mean the body or the emoji on emojis, there's a heart the heart is floating inside my body, but when my feelings come, my heart starts to cry, but then my happiness comes with joy. My heart makes love. A good heart gives you strong wings.

You don't have to be big to be powerful, you don't have to be small to be scared. You can be whatever you want to be, as long as you fight for it. – Alexis

I'm actually going through words and seeing if I like them or not. – Alexis

They don't just fly off. They have to learn to fly. – Naisy
Audio
Videos
Llamau