I am in my early thirties and I live with my husband and young son. I am also pregnant and due to give birth any day. This will be my 5th child but it will be the first time that I go into labour not worrying about Children's Services, not waiting for the conversation with the midwife about the need to inform social workers and not waiting anxiously for their arrival.
There are lots of things that will be different this time. I've been able to buy things like a Moses basket, pram, clothes and know they are going to get used. The nursery my husband and I have decorated will welcome my baby from hospital and this time there will be banners and balloons when I come home. This time I'm looking forward to lots of firsts; first bath time, first smile, first sleep through the night, first words, first birthday, first holiday, first Christmases first steps. I'm looking forward to these firsts because they will be with me and the joy they will bring won't be spoilt by a looming visit, meeting or decision.
It's taken a long time to get to where I am now. My journey with social services began at age 3. I have never looked at my file because I haven't wanted to read what was written about me. From what I can remember and what I have been told in the years since, I don't blame social workers for taking me away. However, the 'care' I received from my corporate parents in the years following was also not as good as it should have been.
I was 17 when I gave birth to my first child. I had been in a relationship with a man who was 7 years older than me. It started when I was thirteen. I had no one warning me about the relationship, trying to tell me it was unhealthy, let alone illegal. I didn't know what sexual exploitation was, or domestic abuse. I had no one talking to me about respecting my body or safe sex. I thought it was love, I thought he was my future and I thought every time he hit me it was because I deserved it. The pregnancy went unnoticed at first but even when my secret was out, there was no proper planning or preparation. Everyone just kept arguing over what should happen to me. At 8 months pregnant I was told I had to leave my residential home as that was the only way social workers would do something for me.
After giving birth I was left in hospital for two weeks because no one knew what to do with me. When it went to court, I was sent to a mother and baby unit for assessment. I passed the assessment, everything was going well apart from housing. They told me I couldn't stay in the unit because of cost and I found myself in the same position again, with nowhere to go, nobody to take me in. My first child ended up in foster care because I agreed to put her needs first; there was a foster place available for her, but not for us both.
That is how this started, not because of abuse or injury, but because I had nowhere to go and no one to help me.
There was also no one to offer help or support after I lost my child. My problems got worse and more unhealthy relationships followed. Social workers saw me as a failed mother and my second, third and fourth children were all removed at birth. After giving birth to my third child, I hadn't even delivered the placenta when I was told social workers had been notified. I hadn't made it off the delivery table before I was reminded I wasn't good enough as a mother.
My two eldest children were adopted and all I can hope is that one day they come to look for me and they understand that I loved and wanted them, but was powerless to stop what happened. My third child is in foster care and I visit as much as I am allowed. With the support of my husband, my fourth child was returned to my care. Having been removed at birth, I was told I would be unlikely to have him back, that I wouldn't be able to parent him, that they were looking at adoption. Within the year, I was being congratulated in court, praised for everything I had done. Social workers are no longer involved with my son and there is no one involved for my unborn baby. Even though I am now seen as a 'good enough' parent, I have been advised that my daughter's needs will be best met with her current carer.
Some of the things that have happened I wouldn't wish on my worst enemy. There have been times where I've had mental health problems, times where I have turned to alcohol, times when I've sought comfort in abusive relationships, times where I didn't want to be here anymore. I haven't always known what is expected of me and some of the things that have been said have been cruel.
I have been told I am not working with social workers, not 'engaging' as I should. I have also been told I don't need to let them know about every little thing. I've been told I was too emotional; because I cried in court when they said my daughter was going to be adopted, because I cried in the final contact when I knew I wasn't going to see her again, because I cried at missing her first Christmas, because I cried as the foster carer was taking her away. When my child was removed, I was told I was too angry.
I've been told I wasn't fit to look after a child, told I would never be a parent.
Thankfully, things are very different for me today. I'm really proud of my life now and I feel grateful because I know a lot of people don't get to this point. I get so much joy from being a parent, from the simplest of things, some of which most people hate – the school runs in the rain, waking in the night, the tantrums, endless 'can I have' or 'why … why … why'.
But I'm also still affected by what has happened. I am a mother of four, soon to be five, but three of my children are not with me. Its left me with anxiety – if there's a car outside –my first thought is that it's a social worker coming to do a check. I worry that someone has made a new referral and the nightmare will start again.
I can't and don't regret having my children. I just wish things had been different. I wish that I had met people earlier who made me realise I'm not a bad person. I wish I had known where to go for support. I wish I had known my legal rights a bit more. All of the things that I had later in life, the chance, the support, the relationship, the family, I wish I had that earlier.
I know that is not the same for everyone and this research has included others who have had worse and better experiences than me. There are some dedicated workers and there are some helpful schemes available. But good support is not available to everyone. It shouldn't be that you are lucky if you have people you can rely on, lucky if you get a good social worker, lucky if you have a strong personal advisor or leaving care team, lucky if you get good housing, lucky if you get offered a mother and baby place, lucky if get a good solicitor, lucky if the judge is in a good mood. It shouldn't be down to luck. All young people deserve the opportunity to be a parent and to have a family of their own.
The social workers, managers and professionals who were involved with me made decisions about me and for me, often without care or consultation. If those people had thought of themselves more as parents and grandparents and less as professionals, maybe things would have been different.
I hope through sharing my experience and being involved in this research, I can help bring about a different experience for others. I hope that the work brings together care-experienced young people and parents, midwives, health visitors, social workers, personal advisors, senior managers, government officials, charity workers, volunteers…; anyone and everyone who can make a difference. I hope this is the start of something better.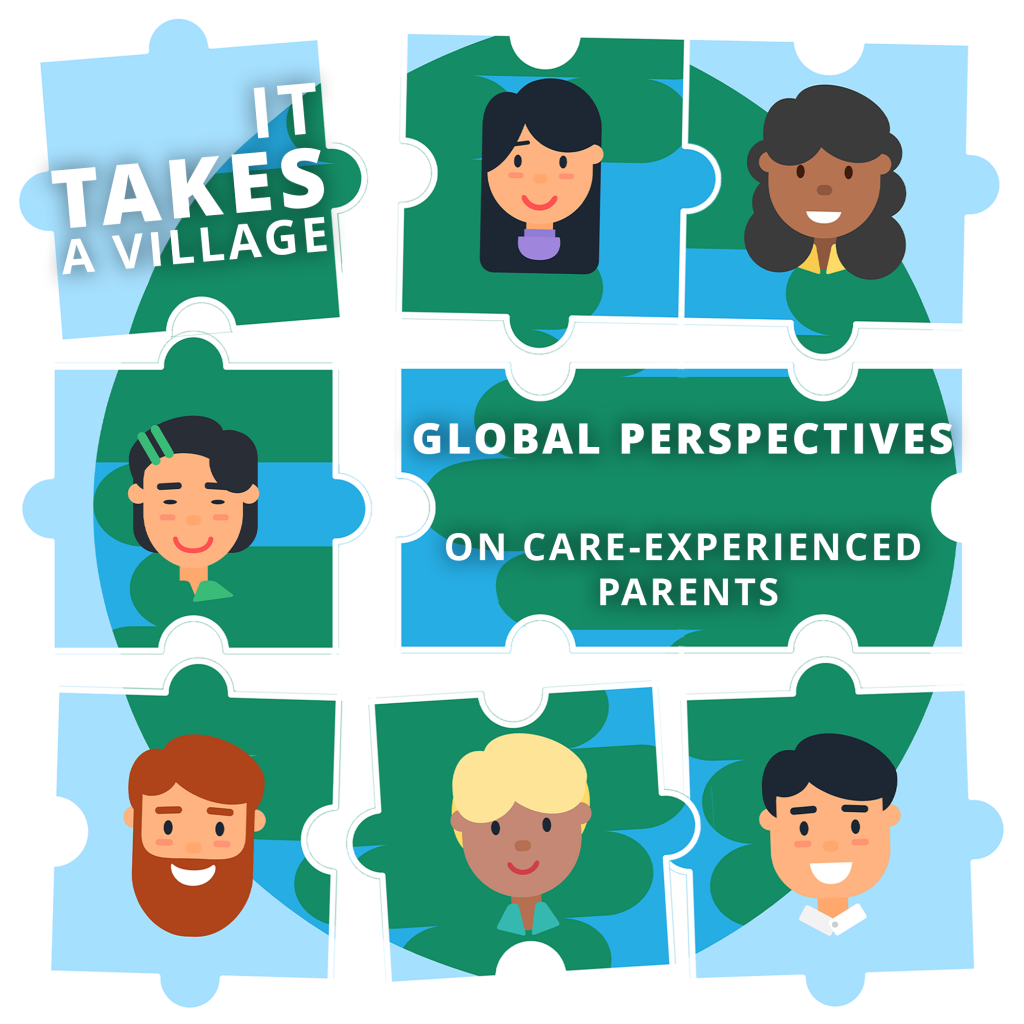 This Blog is part of our ExChange conference, "It Takes a Village: Global perspectives on care-experienced parents"
To find more resources on this topic check out the conferences below