Last year, a group of hosts in and around Cardiff, some from CASCADE, worked together to provide Christmas dinner and a celebration for care-experienced people. The team were filled with nerves ahead of the big day, with referrals still coming in up to the week before Christmas. A chef volunteered three days of their time to make sure dinner was cooked to perfection, with food donated from Milk and Sugar, the Principality Stadium, and residents in the community.
After a welcome message from First Minister Mark Drakeford, everyone tucked into dinner. The food was so good most people went back for a second helping. After dinner, guests were presented with hand picked gifts from a local elf and were able to pick a handmade quilt provided by Quilts for Care Leavers. There were very few dry eyes in the room.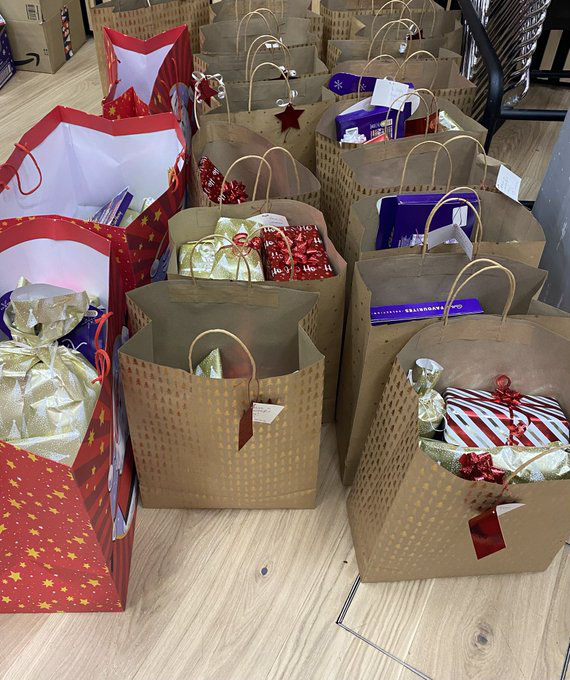 Some young people got in touch afterwards to tell us what the day had meant for them:
"[We] just wanted to send the biggest thank you ever to the team for the event on Christmas day. We were honestly overwhelmed by the feeling of inclusion throughout the whole day and wished we could do something to express our gratitude for the obvious amount of work that went into making it happen. Over the years, [we] have spent many Christmases in many different places with different people, and although we are always so grateful, there is always an underlying feeling that we were intruding. Our 2022 Christmas day was the first year that we didn't feel that. Having an event specifically for individuals in our position, and to be surrounded by others in similar boats, was the warmest and most incredible feeling; for once we didn't feel like the 'add-on'; we felt like we were fully part of something and were meant to be there. From the gifts and food, to the chats and activities, the laughter, kindness and warmth that everyone on the team brought, we just wanted to say thank you. So much, for everything."
With feedback like that, how could we not be motivated to do it all again? Care-experienced guests, who would otherwise be alone on Christmas Day, will once again be invited from a 30-mile radius of Cardiff and transport will be provided for them. They will receive gifts, dinner and the day will be filled with fun activities. You can refer young people by filling out this expression of interest form.
It can only work if people get involved. Last year, volunteers came from all different backgrounds, and of all ages. Ffion, our youngest volunteer, made the venue look stunning, and was a positive beacon throughout the day. This is what she had to say about the experience:
"I loved volunteering on Christmas Day. It was great meeting the young people; we chatted, played games and did some arts and crafts. The Christmas dinner was delicious and the best bit was watching everyone open their presents. I will definitely be getting involved again this year!"

Ffion
If you are interested in volunteering, you can fill out this form so we can match your skills and availability to the work. You don't need to be available on the day, there are plenty of things to do before the big day.
The volunteers are raising money for the event, with funds raised being managed by the registered charity Voices from Care. They are also on the look-out for high-quality gifts and decorations for the event. Anyone wishing to help can email thecardiffchristmasdinner@gmail.com