Please note: This event is being hosted externally and not through Exchange Wales. Family & Community external events listings are posted to inform the wider community about external events including workshops, opportunities for families, children and young people, and helpful resources.
Friday 24th March 2023, 1pm – 3pm
Roath Recreation Ground, 41, Ninian Rd, Cardiff CF23 5EH
Organised by ACE (Action in Caerau and Ely)
This 'ACE YourSpace' event will bring people bring people together who are interested in local environments, reusing and recycling, arts activities, and mental health awareness. They want to bring people together, to talk and share ideas around looking after our green spaces, as well as each other.
 
What we will be doing at Roath Park Recreation Park?
ACE will bring along ACE Benthyg – Library of Things, showing you how you can save money by borrowing things for hire, and ACE Arts will provide a range of arts activities you can do.
 
ACE has teamed up with Keep Wales Tidy who have been running their 'Caru Cymru', a network of Litter Picking Hubs and supporting community groups to work independently, since 2021. They will be helping to keep Roath Recreation by doing a litter picking.
There will be a number of other partners, including FAN – Friends And Neighbours charity, and CCAWS – Counselling Advocacy Befriending service, who will be helping to connect community members together and can discuss mental health and wellbeing. 
If you have some spare time and are interested in you community's environment, recycling, health and wellbeing, then come along and join in!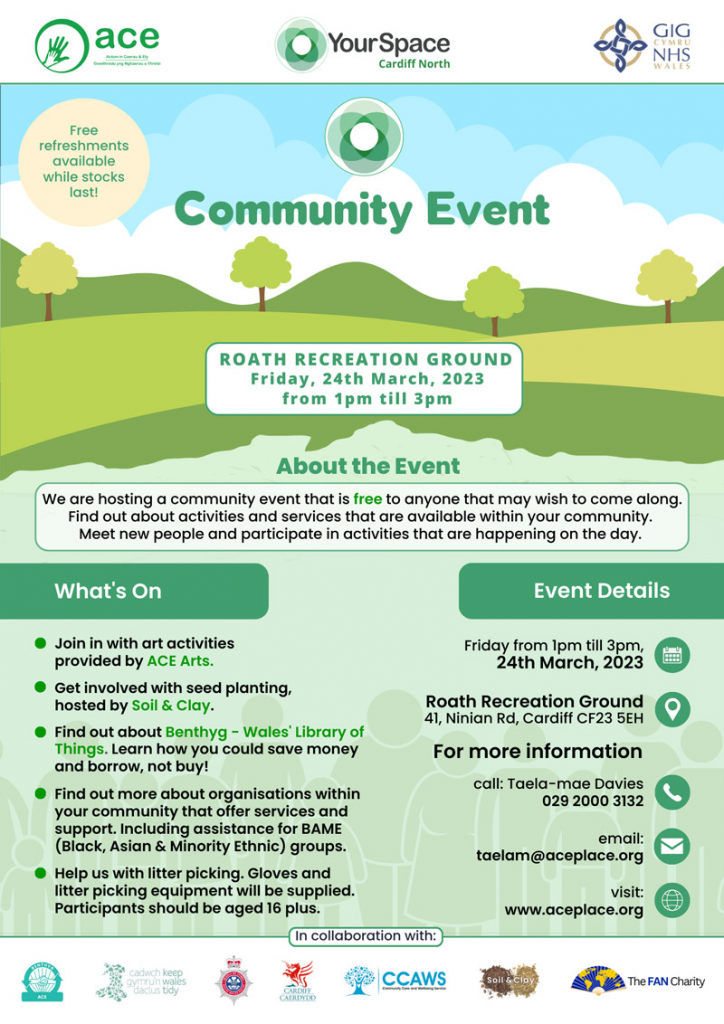 ExChange Wales is not responsible for external links or resources.