Please note: This event is being hosted externally and not through Exchange Wales. Family & Community external events listings are posted to inform the wider community about external events including workshops, opportunities for families, children and young people, and helpful resources.
Over 80 Exhibitors | Free CPD Seminars | Interactive Features | Accessible Parking | Free Entry
Thursday, 21 September 2023
9.30am – 4.30pm
International Conference Centre, Newport, Wales
Kidz to Adultz Wales & West features a comprehensive exhibition that brings together a wide range of products, services, and organisations dedicated to supporting children and young adults with disabilities. Visitors will have the opportunity to explore the latest innovations, assistive technologies, mobility aids, and educational resources all under one roof.
As part of the exhibition Kate El Bizanti, a Children's Occupational Therapist & Clinical Lead from Meru & Mobility Services, will be presenting a free seminar on the Bugzi Loan Scheme.
Bugzi is an early powered mobility device, that is available on FREE loan across the UK, and provides a high level of postural support and flexible controls including a joystick and switches.
The Bugzi Loan Scheme has recently expanded into Bugzis School Squads and this seminar will ensure the attendee understands:
What is Bugzi.
How the Bugzi Loan Scheme works.
How the Bugzi School Squads work.
How to access Bugzis for their school.
Bugzi can be used as an introduction to powered wheelchairs. They are also important for other developmental milestones such as cause-and-effect, independence, special awareness, interpersonal relationships, and participation.
You can view the full seminar programme and more information on the event from our website.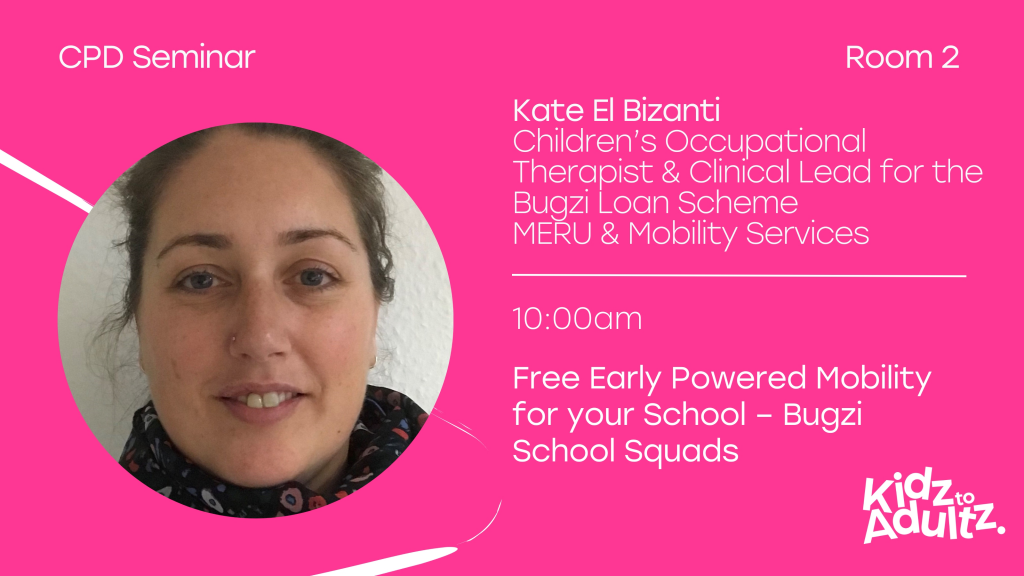 ExChange Wales is not responsible for external links or resources.