In 2018, a group of sustainability scientists connected with the Sustainable Places Research Institute at Cardiff University embarked on a mission to transform their research into children's stories. Co-author Lorena Axinte (who received her PhD at Cardiff University) explained, "we wanted to write a book about hope and leadership that would make young readers smile, and also inspire them to support positive change, reconnect with their environment, and bond with their communities". The project was supported by the EU Marie Curie funded project SUSPLACE ("Sustainable Place Shaping").
Once Upon the Future is an anthology of six fictional stories written for children aged 7-12. The stories are whimsically illustrated by artist Rita Reis from Portugal. Using simple yet vibrant language, they narrate the adventures of everyday young people who learn their way around the world, experiencing change, anxiety, loss, disappointment, and failure, and ultimately success and empowerment. All the while, the characters create bonds with both human and non-human worlds, and they enhance their own competence and confidence. Most importantly, these young heroes and heroines learn to actively care about the world around them and to work with others to contribute to the things that matter to them.

Each story is inspired by research on a specific topic, including circular food economies, textile traditions in rural areas, forest commoning practices, biodiversity conservation and regeneration, the role of youth in urban governance, and the importance of values and imagination for sustainability leadership.
Published in early 2022 by BABIDI-BÚ Libros, an ethical independent publishing house based in Spain, the book is accompanied by a free, illustrated workbook of questions and activities designed for educators and readers to dive deeper.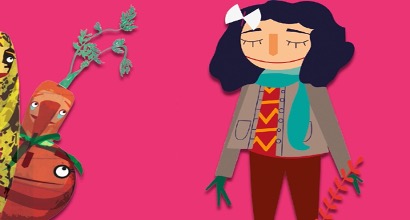 So far, Once Upon the Future has received rave reviews from people who know the challenge of capturing kids' attention…
"A magical and profoundly moving collection of stories with the power to transport children to new environments, encouraging them to think differently and imaginatively about the effect we can have on the world around us." – Jacqui Lofthouse, Novelist and Founder of The Writing Coach.
"As a teacher, it is difficult to find motivating materials to show children how important our environment is. It is even more difficult to make them understand how they can take care of it. These stories, based on deep research and strong work, speak in children's language." – Berta Nieto Fernández, middle grade teacher at El Trigal School, Madrid.
"Adventure, hope, and healing are found in these tales. Exploring deeply, seeking, and finding connections with others, safe to be oneself. Accept this invitation to dream, to create, to embrace power and inhabit the connected world." – MJ Grande, Youth Services Librarian, Juneau Public Libraries, Alaska.
Follow the book's social media on Twitter and Facebook @UponFuture
Don't hesitate to contact the authors via email at: storiesforfuture@gmail.com
If you wish to buy a copy, you can purchase it at BABIDI-BÚ Libros, and it is also available via FNAC and Amazon.
The Authors:
Lorena Axinte (@lorena_ax) is a researcher and consultant in future mobility, with a particular interest in governance and participation, and the role that young people can play in shaping their environments. 
Alessandro Vasta (on Linkedin) studies traditional livelihoods and works as a consultant at the Food and Agriculture Organization of the United Nations (FAO). Co-founder of  "La permafattoria" in the Umbria region of Italy.
Angela Moriggi (@AngelaMoriggi) is a researcher and facilitator working on social innovation from a care-based perspective, using transdisciplinary and participatory action-oriented approaches. Based at the University of Padova, she's co-founder of reimaginary.com.
Anastasia Papangelou (on Linkedin) is an environmental engineer with a vision to erase the concept of waste from our society. She is trying to achieve this through her research on organic waste, but also through her practice as a storyteller and improviser. 
Marta Nieto Romero (@martanietor) is a researcher on commons, governance of social-ecological systems, and transdisciplinarity, being based at ISEG, University of Lisbon.
Kelli Rose Pearson (@reimaginaries) is an entrepreneur, consultant, and researcher interested in transformative imagination, storytelling, and creative/arts-based practices that support sustainability leadership. Co-founder of reimaginary.com.