The PaCE (Parents, Childcare and Employment) project provides childcare support for parents whilst training or looking for work. PaCE offers individual adviser support to parents to help find a suitable job.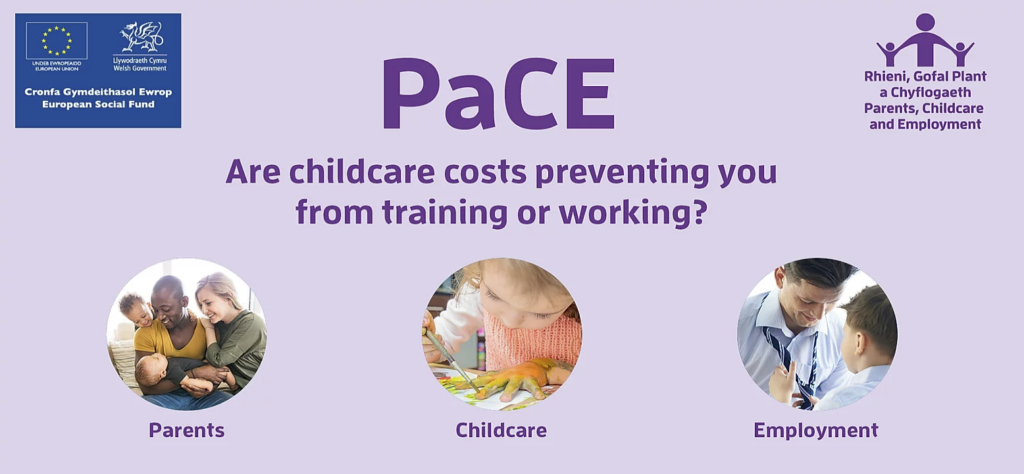 Make a start with PaCE. Are these a barrier for you?
Potential barriers to sustainable employment may include:
Childcare
Employability skills or training
Help with childcare costs
Finding work locally to fit with childcare needs
What will PaCE Offer?
PaCE will help parents/guardians who are out of work into training and employment
PaCE will help find and fund solutions to overcome childcare barriers to enable parents/guardians to prepare for or to access employment opportunities
Parents/guardians will receive individualised help via a PaCE adviser in their local community
PaCE advisers also support parents/guardians to develop employment skills which will help to improve self-esteem and confidence
Are you eligible?​
PaCE can help parents/guardians who are currently not engaged in any education, training or employment.
What do I do next?
If you are interested in PaCE and believe that you fit our eligibility, complete our form and send it forward to PaCE@gov.wales. A member of staff in the PaCE internal team will then forward your interest to the appropriate adviser.
The adviser will:
Offer one-to-one support in family and friendly locations, supporting your search for training and employment
Help with 'Better Off' in work calculations
Offer self-employment advice and guidance
Support pre-employment childcare costs
Advise on locally available registered childcare provisions and costs
Further resources: