"This is the sound of change. From the 21st of March the law in Wales will change to protect us and our rights. No one will be allowed to use any kind of physical punishment, like smashing to discipline us." – A firm message from the voice of a young girl in Wales, ahead of a policy change which will grant children equal protection from assault as adults.
Physical punishment in schools, children's homes, local authority foster children's homes, and childcare settings is already illegal. It is also illegal for a parent to smack their own child in Wales, unless the smacking is "reasonable punishment." From March 21st 2022, the defence of "reasonable punishment" will be abolished in Wales, making all forms of physical punishment illegal. It will be illegal for anyone, including visitors, to physically punish a child anywhere in Wales. This includes "smacking, hitting, slapping and shaking".
This is a historic moment for the rights of children in Wales. The Welsh Government has said, "we want to protect children and their rights, to help give them the best start in life". The children's commissioner for Wales, Sally Holland, added that, "this is landmark legislation for children's rights in Wales and cannot come soon enough".
How does the Welsh Government define physical punishment?
The Welsh Government says, "there are lots of types of physical punishment. It can mean smacking, hitting, slapping and shaking. But there are other types too. It isn't possible to give a set list of what makes up physical punishment because it can be anything where a child is punished using physical force. Research suggests that any type of physical punishment could be harmful to children."
Does this mark the end of discipline of children in Wales?
Absolutely not. The Welsh Government stresses the importance of understanding the difference between discipline and physical punishment. Discipline is essential to good parenting, providing a child rules to live their life effectively and efficiently with an understanding that small sacrifices can lead to a better future. Discipline helps to create routines and habits to support appropriate behaviour. The government adds, "The change in law would not affect a parent's ability to [discipline]. Physical punishment is not a necessary part of disciplining children. It may look like it works because children often stop what they're doing when they get a smack for example. But physical punishment of children is not effective in improving children's behaviour and it doesn't help children learn about self-control or appropriate behaviour. Physical punishment can:

• hurt a child
• make a child feel fear, anger, sadness and confusion
• give children the message that violence is ok and is an appropriate response to strong feelings
• be associated with negative outcomes for children."
The government has released detailed guidance on the law change.
What support is available for parents and caregivers?
The Welsh Government is offering parents additional support, reaching out with a network of resources to assist them in overcoming the hurdles of parents.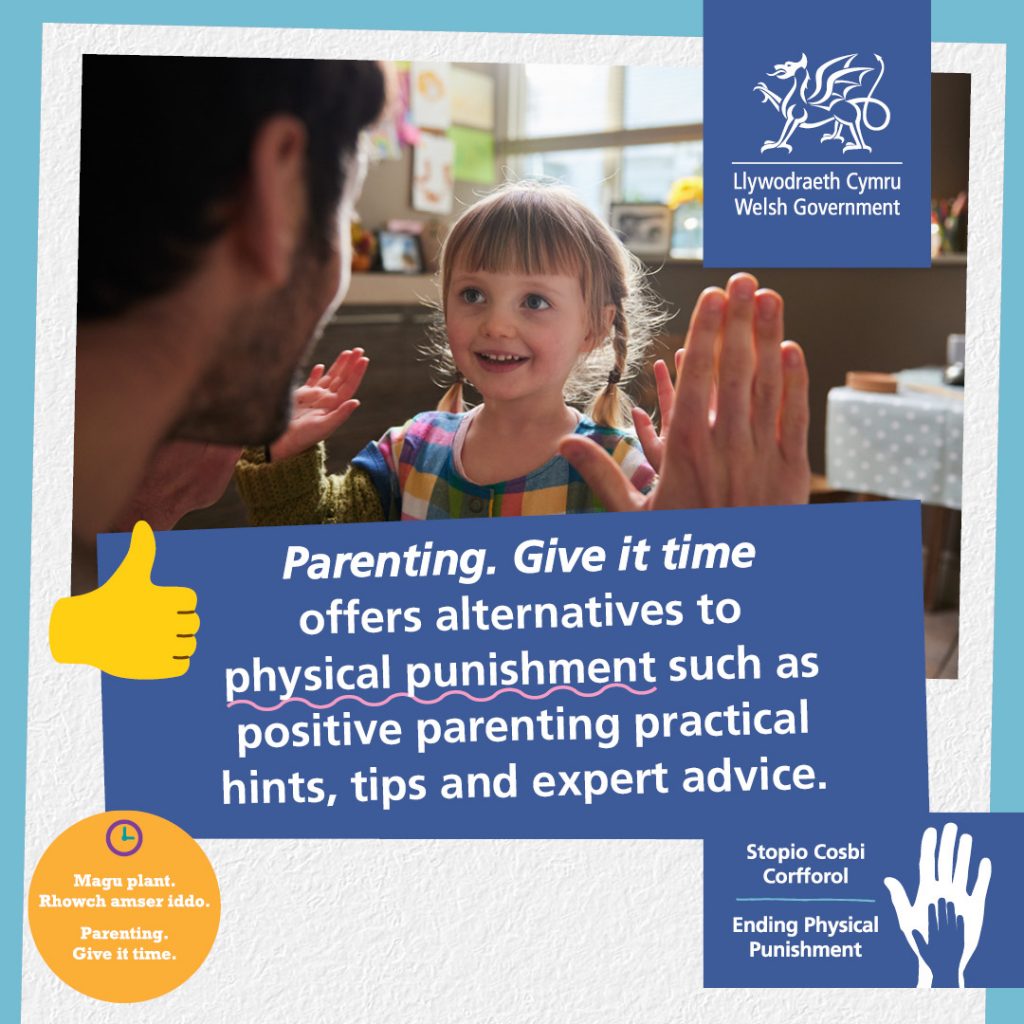 Parenting: Give it time is a campaign to provide parents of young children with support and advice and to help them encourage good behaviour while looking after their own wellbeing.