This blog was originally written by Rebecca Montacute and published at the The Sutton Trust website. Visit the original post here.
The cost of living crisis has been making headlines for months, as prices rise and many families struggle to make their incomes stretch.
But much less has so far been known about how those wider financial pressures are impacting on children in the classroom. The Sutton Trust latest research looks at that vital question.
They surveyed over 6,200 teachers across England via Teacher Tapp, to better understand what has been happening on the ground in schools during the autumn term.
The findings are shocking. Schools are seeing growing numbers of hungry, cold and tired pupils, with those in the most deprived schools seeing the most hardship.
What issues are teachers seeing?
Teachers have seen an increase in the number of their pupils facing several different serious issues this autumn term.
In state schools, 74% of teachers have seen an increase in pupils unable to concentrate or tired in class, 67% have more students with behaviour issues, and 54% have seen an increase in those coming into school without adequate winter clothing like a coat. 38% of teachers reported an increase in children coming into school hungry.
Percentage (%) of state school teachers seeing the following increase for their pupils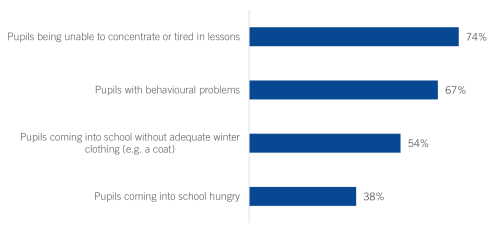 More teachers in schools with the most deprived intakes reported increases for many of these issues, for example, these teachers were more likely to report an increase in those coming into school hungry (56% vs 22%), coming into school without adequate winter clothing (65% vs 40%) and in families asking to be referred to a foodbank (27% vs 8%).
Percentage (%) of state school teachers seeing the following increase for their pupils, by deprivation level of the school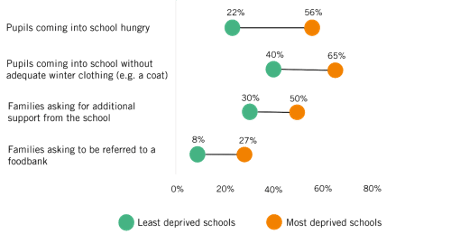 Over half (52%) of senior leaders in state funded schools reported the number of children ineligible for free school meals unable to afford lunch had increased this autumn, with 11% saying there had been a large increase. The figure saying there had been an increase was higher in schools with the most deprived intakes, at 59%, compared to 44% in state schools with more affluent pupils.
We live in a rich country. We should not have any children going hungry, or not having a warm coat in the winter – let alone it being widespread in the way these figures suggest.
How is this impacting on children's educations?
In state schools, 38% of teachers said a third or more of their class were living in families facing considerable financial pressures which they felt are impacting on the children's ability to succeed in school. This figure was highest in state schools with the most deprived intakes.
Teachers saying at least one third of their pupils are facing considerable financial pressures likely to affect their ability to succeed at school.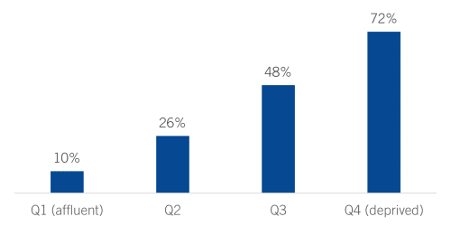 By area, the proportion of teachers reporting at least a third of their class are struggling was highest in Yorkshire and the North East, and in the North West, both at 43%, compared to just 28% in the South West and 27% in the South East.
In state schools, 67% of teachers thought the cost of living crisis and associated impact on pupils would increase the attainment gap at their school, with 18% saying there would be a substantial increase. This figure was 72% in the most deprived state schools, compared to 60% in those with better-off intakes.
What should be done?
Keeping all our country's children warm and fed should be an absolute minimum, for their safety and their wellbeing. It is shocking and deeply unfair that any children are hungry and cold. But the scale of the problem indicated by these figures is no less than a scandal.
While it is welcome that the government has now announced that benefits will increase with inflation, the change is not due to come into force until April. Children and their families clearly need much more urgent support.
It is also clear that the current cut off for free school meals is not set at the right level, with many teachers seeing children unable to afford lunch who are not currently eligible. Access to free school meals should be expanded to fully capture those in need, by making them available to all families on Universal Credit.
Children cannot learn effectively when living in poverty, with long term impacts for the economy if their potential is left unmet.
But on an even more basic level than that, children simply should not be living in these conditions. They deserve so much more.
---
On 2 December 2022, the Sutton Trust launched the findings of their research on the cost of living and education. Read the summary Cost of Living and Education 2022.